Welcome to the Home Page of


Co "K", 6th TX Infantry

The January 2014 drill is at Enchanted Springs Ranch.
____________________________________________
. Co. "K", 6th Texas Infantry Regiment "Alamo Guards" is a group of dedicated men and women who reenact the period of the American War Between the States (often called the Civil War) in order that our generation may better understand this important and pivotal part of our country's history.

Below: Company K at <![if !vml]>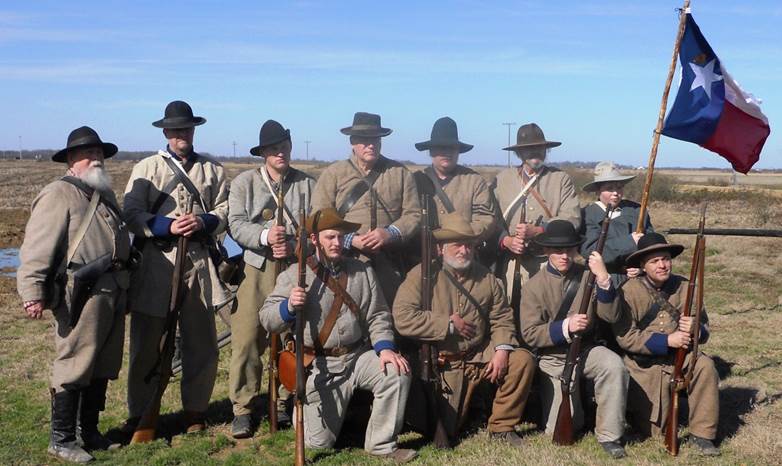 <![endif]>the Arkansas Post reenactment. While it was definitely not a big event, Arkansas Post is a very significant place in the history of the original 6th Texas infantry regiment.
Company K at the Boerne

Burgesfest

parade.

We will be back there in 2014.
<![if !vml]><![endif]>
While our primary impression is Confederate

, we

DO galvanize (portray) as Federal Infantry when needed.

(Our secondary impression is 165th New York Volunteer Infantry –

Zouaves

!).
As here, on Sunday of the Shiloh 2012 reenactment when we marched in as part of Buell's army and counter-attacked.
<![if !vml]><![endif]>
We belong to the 1st Confederate Division and it is the policy of the Division to galvanize where needed.
We also fall in with our

pards

in the 9th Texas Infantry and comprise the Red River Battalion.
About half of our members are from the San Antonio (Bexar County) area, and we have many who live north to Austin, south to Laredo and to Corpus Christi, and from Houston.
Authenticity is our greatest goal but safety is our #1 goal. All new recruits will be taught and certified in safety and drill first before being allowed to shoot or carry any weapon on the field. We owe this to you and the pards on the field. This is NOT negotiable.
---
Contents of this site:
Battalion Message Board : Message board for the RRBN and guests.
Company Forum: For company K http://companyk.freeforums.net/
History: Brief history of the original 6th Texas.
Roster: Roster of the original Co "K".
Event Schedule 2014: Where we plan to be this year. Has links to event sites.
Picture Pages: Pictures of us and what we do.
Recruiting Page: Information for new recruits and our Authenticity Guidelines.
Note the link to pictures of an original shell jacket:
Federal impression: Zouave!
Drill Maneuvers: The historical Sixth Texas was trained to drill "like a machine"
Safety: Rules on safety at reenacting events.
Links: Links to other units and good information.
Reenacting cooking: Eat like the original Civil War soldiers! Not just hardtack -
Articles from past years: Articles from our monthly newsletter, some also published in another version in the Camp Chase Gazette reenacting magazine.
Newsletter: Older articles from our monthly Newsletter.
Texas Artifacts: Artifacts from Texas History including documents and flags.
Elections: Information on elections that were done in the 6th TX.
---
[ Previous Two | List | Join | Random | Next 5 ]
This Reenactor Ring site owned by [email protected]
.