Directions: To drill at Alamo Muzzle Loading Gun Club range:
From San Antonio, go west on Highway 90 (toward Castroville).
Look for the exotic animal farm on a hill on your right, 5.1 miles west of loop 1604. 1.9 miles past that (a total of 7 miles past loop 1604), and about 0.4 miles past the Medina County line, turn left (south) to La Coste as directed by the small green sign.
Drive about 1 mile, with fields on both sides of you, to the T, turn left and continue another two miles to LaCoste. In town, as soon as you're past the railroad tracks turn right (west) and continue parallel to the railroad. You will be on FM471. About half a mile out of town you'll see hedges to the left: these surround the range. Turn onto the farm road and go about 30 yards to the gate. I hope to see you there at 9AM. Bring percussion caps and some blanks.
Ian Straus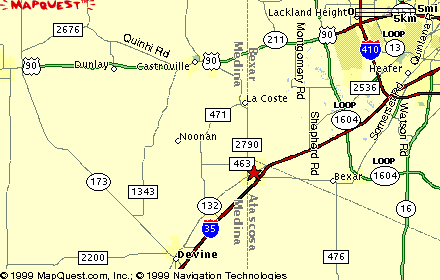 The map at left shows Lytle, LaCoste north of it, highways 90 and I-35, and SW San Antonio.
The next map shows LaCoste at a much larger scale. The range is SW off Farm to Market Road 471.